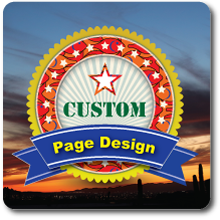 Note: Page Design does not include any other subscriber benefits such as our XML service.
You deserve a great looking QRZ page! Our Custom Page Design Service will help you get the page you want without having to learn computer codes or page editing. Now you can have a talented web designer give your page a professional makeover!
This subscription service gives you access to a page design expert who will transform your callsign page into a professional looking design. You will be asked to provide the pictures and text that you want on the page, and tell us what kind of page you'd like to have. There are literally hundreds of examples to choose from. The designer then takes your input and delivers your fully customized web page installed on QRZ as well as a backup copy you can download.
QRZ's senior page designer, Vlad Lambrianov, UA6JD/W7, is one of the best callsign page mechanics we've ever seen. He will take your ordinary, blank looking callsign page and give it a smooth, appealing and informative look. At your direction, he can add logbook summaries from other sites, weather info, solar data, clocks, visitor counters, and even YouTube videos to your page.
This service is offered as a subscription so that you can have not only your initial page design but a full year of design support as well. You are also free to continue making changes on your own while the subscription is active. If you run into problems or mistakes, our designer will be there to help.
Your final page design is yours to keep and does not expire with your subscription.
Vlad's pages have become legendary here on QRZ and there are lots of great examples. Here are just a few:
Basic Examples
A Basic subscription includes an initial page makeover as well as two (2) full updates occurring during the course of the subscription.
Advanced Examples
An Advanced subscriptions include those things from the Basic package, plus: page animations, background images and textures, and photo slide shows. In addition to the initial makeover, Advanced subscribers are entitled to four (4) complete page updates during the course of their subscription
Questions?
If you have a question about our service, please contact: pagedesign@qrz.com
Platinum of Life Member? This service is already a part of your package. You may contact the designer at pagedesign@qrz.comand get started now.